KATHERINE OF ARAGON: THE TRUE QUEEN
BOOK ONE in the SIX TUDOR QUEENS series
Sunday Times bestseller
A Spanish princess. Raised to be modest, obedient and devout. Destined to be an English Queen.
Six weeks from home across treacherous seas, everything is different: the language, the food, the weather. And for her there is no comfort in any of it. At sixteen years old, Catalina is alone among strangers.
She misses her mother. She mourns her lost brother.
She cannot trust even those assigned to her protection.
KATHERINE OF ARAGON. The first of Henry's queens. Her story.
Alison Weir reveals a strong, spirited woman determined to fight for her rights and the rightful place of her daughter. A woman who believed that to be the wife of a king was her destiny.
History tells us how she died. This captivating novel shows us how she lived.
https://a248.e.akamai.net/f/1018/19022/1d/randomhouse1.download.akamai.com/19022/banners/KatherineofAragon/Goodreads/KatherineofAragon_GdRds_300-250_v5.gif
'
"It is, of course, an absolutely superb book. [Alison Weir] combines a scholar's research with a novelist's imagination to bring history enthrallingly to life." (Josephine Ross)
"I did enjoy it – thoroughly. The great thing about Alison's work, be it fiction or factual, is that it is always underpinned with her tremendously detailed knowledge of the characters and the period she writes about. Her research is impeccable. It is so refreshing to read historical fiction that gives such a confidently accurate picture of what happened and of the times in which it is set and which so sensitively invents only where necessary. And in this book she has coupled all this with a tender understanding of and genuine sympathy for this proud, much loved and honourable Queen whom Henry treated so badly. I was gripped start to finish." (Mavis Cheek)
"I enjoyed it immensely. I believe it is your strongest work of fiction to date." (Beth von Staats, Queenanneboleyn.com)
"
Katherine of Aragon: the True Queen
demonstrates so brilliantly that there is still so much to say about these most famous queens. There was a time when I thought I was Tudored out, that I couldn't possibly read yet another fictional account of these people, but I have been proven wrong time and time again and now by Alison Weir. I know the history of Katherine of Aragon very well and it's so good to see her allowed her voice, which has so often been eclipsed by Anne Boleyn, in fiction and in reality. Speaking of Anne Boleyn, I cannot wait for the next novel in the series because I suspect that Anne's voice will be unfamiliar, original, and every bit as engrossing as Katherine's.
Katherine of Aragon: The True Queen
is not only very well written, compelling and meticulously researched, it is also a thing of beauty in its own right. This is a gorgeous hardback. I can't wait to have the full series on my shelves. I can only repeat myself – this book is magnificent." (For Winter Nights - A Bookish Blog)
@Sunbookscolumn @Boofindlay "loved Katherine of Aragon by @AlisonWeirBooks - it gets five stars in today's page." "Exquisite' and 'immaculate." (The Sun)
Top 5 read in @heatworld: "The first of six brilliantly rich novels charting the real lives of Henry VIII's wives." (Heat)
"Katherine of Aragon is meticulously researched. This faithfulness to the history is the novel's great strength." (The Times)
"This well researched and engrossing read gives a new perspective on the long-suffering first wife." (Good Housekeeping Hot Reads)
"This exquisite books charts the rise and fall of Henry VIII's first wife. Keeping closely to the historical record, this is a fascinating insight into this period of our history. Weir's undeniable strength is her immaculate description, enabling the reader to be transported back to Tudor England. I am so happy that Henry had six wives as it means five more books." (The Sun, 5* review)
"As always, Alison Weir has given us a comprehensive look at the life of this fascinating Tudor Queen. The book is not something to be read in a rush, but more to be savored slowly in order to appreciate the fine attention to detail. The way that Katherine comes alive on the page is a credit to the author, who has such a breadth of knowledge about this Tudor period that it's a real pleasure to read her fictional work. This is the first of six historical novels planned which will each detail one of Henry's six Queens. Anne Boleyn is next, I can't wait!" (Jaffareadstoo blogspot)
"Alison takes you on an engrossing journey at Katherine's side and shows her extraordinary strength of character and intelligence. Although I've studied the details of Katherine's life, it is still harrowing and sometimes shocking to share her seemingly endless, often tragic pregnancies, with their awful consequences. I feel I have a new insight into her character and her faith after reading this book, so for that reason am happy to award it a rare five stars." (Tony Riches, The Writing Desk)
Alison Weir begins her Six Tudor Queens novel series by expertly authoring the life story of Catalina de Aragón in her brilliant novel Katherine of Aragon, The True Queen. Easily her strongest historical fiction work to date, Alison crafts with historical astuteness Queen Katherine of Aragon's life from her arrival in England in 1501 to her death, sensitively portraying Katherine's maturity from an anxious and homesick princess to a determined, focused and strong queen. Alison does an outstanding job allowing her exhaustive research through the years to guide her rich character development of Queen Katherine, filling in what is not known with plausible authenticity. The hallmark strength of this novel, however, is the outstanding crafting of Katherine of Aragon's relationships with others, particularly those with her parents, two husbands, close friends, mentors, closest servants, and adversaries. Katherine of Aragon, The True Queen is a true tour de force. Finely crafted, this novel is wonderful historical fiction and an outstanding introduction to the Six Tudor Queens novel series." (Beth von Staats, Queen Anne Boleyn Historical Writers)
"Weir is excellent on the little details that bring a world to life... The build-up of detail has the cumulative effect of making Katherine's disaster real and, finally, heartbreaking. Weir has made this brave and honest woman, beloved by the people of the time, the heroine of her own story at last." (The Guardian)
"Henry's first Queen emerges as an intelligent, resilient woman who demonstrated considerable political ability. Alison Weir is in command of her detail and her handling of Katherine's misery and dignified response to her predicament is very touching." (Elizabeth Buchan, The Daily Mail)
"This ambitious, engrossing novel tells Katherine's story through her controversial marriage to Prince Arthur and then to his brother, the handsome, gallant Henry VIII. Katherine's enduring devotion to her husband dominates Weir's fascinating account of a marriage so often overshadowed in fiction – and reality – by Anne Boleyn. The portraits of Henry VII and Henry VIII are vividly painted, as is the Tudor court through these, its most glorious years." (Sunday Express Magazine: the most riveting new historical fiction)
"The novel provides a fascinating glimpse into the personal life of Queen Katherine behind the intricate and vicious political intrigues of the Tudor court. She is revealed to be a strong, intelligent woman who struggles to protect the future of her daughter, as well as her own right to maintain her religious faith. Meticulous research, combined with Alison Weir's empathy for her subject, makes this an illuminating and engaging portrait of 'the true queen.' Often portrayed as a dour and downtrodden woman, Katherine of Aragon is revealed to be astute and resolute enough to survive into old age. This is an enjoyable and enlightening read, and I look forward to the next one in the series." (Historical Novel Society)
"In this first of a series looking at all of Henry's wives, Alison Weir's fictionalised account shows Katherine's life was just as tempestuous and that she was more than a match for Anne Boleyn in strength of character. Weir shows that her story is no less fascinating than that of the flashing-eyed woman who took everything but her courage and dignity." (Australian Women's Weekly)
"Henry VIII and his six wives must have spawned more books, films and TV shows than just about anyone else in history. It's hard to imagine there's much new to say, but popular historian Alison Weir finds a way, as she usually does, with extensive and thorough research and meticulous detail. She presents Katherine's story deeply grounded in England of the time — its everyday customs, morals and religious outlook. For fans of the Tudors or historical fiction, this is a compelling read many will find hard to put down. I found it fascinating." (The Herald Sun, Melbourne; Daily Telegraph; Weekend Post; Courier Mail)
"Alison Weir has written 18 books of Tudor and Plantagenet history and has produced a highly readable take on a story that changed England. There is an effortlessness to her writing that demonstrates the depth of her knowledge without it straining the storytelling. She has given her characters lively voices but they never descend into caricature. Katherine's story can be viewed in two ways – as a fortunate woman whose stoic attitude played a role in her fall, or as a princess struck by tragedy. Weir presents a Katherine who was both of these and more." (The Saturday Age, Melbourne)
"If this greatly impressive inaugural installment is any indication, Tudor lovers have much to look forward to. As always, Weir demonstrates a keen eye for crafting dramatic scenes of beautiful, accurate detail, instilling in the reader's mind's eye a definite you-are-there sense.
If this greatly impressive inaugural installment is any indication, Tudor lovers have much to look forward to."
(Booklist starred review)
"This is [Weir's] fresh approach to Henry's first wife, and a wonderful place to start for those unfamiliar with Katherine's story. An easy, quick read to begin the series." (Romantic Times)
"Vividly detailed... [Weir] brings considerable expertise to her fictional retelling of the life of Katherine of Aragon. A vividly detailed rendering of a well-known tragedy." (Kirkus Reviews)
"The novel provides a fascinating glimpse into the personal life of Queen Katherine behind the intricate and vicious political intrigues of the Tudor court… Meticulous research, combined with Alison Weir's empathy for her subject, makes this an illuminating and engaging portrait of 'the true Queen.'" (Historical Novels Review)
"Alison Weir takes on what no fiction writer has done before: creating a dramatic six-book series in which each novel covers one of King Henry VIII's wives. In this captivating opening volume, Weirbrings to life the tumultuous tale of Katherine of Aragon, Henry's first, devoted, and true queen." (Brilliant Books)
"Katherine of Aragon by Alison Weir is our BookDiva Book of the Month."
http://www.nudge-book.com/blog/2016/05/six-tudor-queens-katherine-of-aragon-the-true-queen-by-alison-weir/
"Katherine of Aragon' offers a lusciously sympathetic portrait of a spurned royal... a nuanced portrayal of Katharine of Aragon and those who surrounded her... Opulent... Weir's novel is, refreshingly, entirely free of cardboard­ cutout monsters. In fact, Weir is uniformly excellent at conveying the chaotic emotional give­ and­ take of the relationship. It is downright impressive how gripping Weir makes even the bleak final years. It's a story shot through with an ugly mixture of venality and hypocrisy, a dark passage through which Katherine carried herself with a nobility she clearly intended to speak well to posterity. Alison Weir's novel captures that nobility better than any biography ever has, and maybe in the end that nobility is a kind of mystery too." (Christian Science Monitor)
"Enthralling account of Henry VIII's first wife." (Readings Monthly, Australia)
"This account gives new focus to the Princess's life." (Yours, Australia)
"Katherine of Aragon, The True Queen did not disappoint. It is very apparent that Ms. Weir did her research through the utilization of real letters and testimonies from that time. There was so much detail that it was easy to be transported to that life. You could not help but take Katherine's side. Since Anne Boleyn was made to be quite the villain in this novel, I can't wait to see what her side of the story is in the next book. A long read, but well worth it." (San Francisco Book Review)
"I was not expecting this book to teach me an awful lot. I was wrong. History is of course about so much more than the digestion of facts. Fiction provides a greater degree of freedom, especially when the writer possesses Weir's rare ability to combine robust research with sensible empathy. For me, the new insights into Katherine's relationships with Henry, her household and the 'powers that be' back in Spain, have shed new light on my understanding of the tempestuous and often traumatic episodes of her life. Through Weir's vivid storytelling, Katherine's varied circumstances and emotional reaction to them become tangible and accessible. As with all fiction from this author, the book is well researched and sticks closely to the historical facts available. However, as Weir herself has stated, fiction allows the author a degree of experimentation with thought-through theories that would be quite out of place in a history book but nonetheless can make a valid contribution to historical debate. This freedom is used credibly and effectively to explore what really happened on the night of Katherine's controversial first marriage and at other parts in the narrative.If book one is anything to go by, Tudor lovers have much to look forward to from the remaining five in the series. Perhaps the only thing that will frustrate fans is that there are many months to wait until book two." (Royal History Geeks)
"As engrossing and meticulously researched as we've come to expect from Alison Weir. Katherine's life and world are vividly brought to life." (Choice magazine)
"Alison Weir brings a freshness to the story, and brings the Tudor court to life, giving the reader great insight. A good long read and a real page turner." (The People's Friend)
There are two e-books associated with this novel:
Arthur, Prince of the Roses
'You are the first prince of my line, the Tudor line.'
Arthur, the first Tudor prince, is raised to believe that he will inherit a kingdom destined to be his through an ancient royal bloodline. He is the second Arthur, named for the legendary hero-king of Camelot. To be a worthy ruler, he must excel at everything - and show no weakness. But Arthur is not strong, and the hopes of England weigh heavy on his slight shoulders. And, all the while, his little brother Harry, the favoured, golden son, is waiting in the wings., is a novella that tells the story of Katherine's first husband. Available in the UK from November 2016 on e-book. It will be published in the US paperback edition of KATHERINE OF ARAGON: THE TRUE QUEEN.
You can read my blog, The Real Prince of the Roses, at
http://hforhistory.co.uk/article/real-prince-roses-alison-weir/
The Blackened Heart
This e-short, published in March 2017, bridges the first two novels in the Six Tudor Queens series, Katherine of Aragon and Anne Boleyn. It's a mysterious tale, drawn together from fragments of history - and a good dose of speculation. Or is it...?
Margery Otwell, a self-made gentleman's young daughter, gets her first taste of courtly life when she takes up a position as chamberer to Lady Peche of Lullingstone Castle. Dances, music, feasting - and a seduction - follow, and Margery learns the rules of courtly love the hard way.
Saved from disgrace by the kindly Sir John Peche, Margery finds herself at court waiting on Queen Katherine. Little does Margery know that she is already a pawn in a game of power, irrevocably bound to the fall of the lady she will come to love as her mistress, Queen and friend.
You can read more about my Six Tudor Queens series and a lot of other fascinating historical topics at
http://hforhistory.co.uk/
Listen to my interview with Jane Garvey on Woman's Hour here:
http://www.bbc.co.uk/programmes/b079m0ld
Join me in the Audible studios talking about this ambitious new series - 'Six Tudor Queens' adbl.co/AWeir @headlinepg.
I'm talking about the books on
youtube.com/watch?v=ggnRBn
Read my interview with historical novelist Tony Venables in The Moment: 'Social mores change, but human nature doesn't…' here:
http://www.themomentmagazine.com/history/features-history/alison-weir-social-mores-change-but-human-nature-doesnt/
.
Read my interview with historical novelist Catherine Hokin here:
https://www.catherinehokin.com/i-m-currently-reading.html
Read my article 'Katherine of Aragon: The True Queen?' at
http://the-history-girls.blogspot.co.uk/
'Alison Weir on Katherine of Aragon: The True Queen':
https://www.sainsburysentertainment.co.uk/blog/alison-weir-on-katherine-of-aragon-the-true-queen/


Read my article for BBC History Extra: 'The Lost Heirs of Henry VIII: Alison Weir on Katherine of Aragon's failed pregnancies'
http://www.historyextra.com/article/feature/lost-heirs-henry-viii-alison-weir-katherine-aragon%E2%80%99s-failed-pregnancies
Read my introduction to Katherine of Aragon: The True Queen on the Tudor Times website here:
http://tudortimes.co.uk/people/katherine-of-aragon-the-true-queen
and my interview with Tudor Times here
http://tudortimes.co.uk/interview-with-alison-weir
Read my interview for Queen Anne Boleyn Historical Writers at
http://queenanneboleyn.com/2016/05/05/qab-interview-with/
Read my interview with author Katherine Clements for the Historical Writers' Association online magazine, Historia at
http://www.historiamag.com/historia-interviews-alison-weir/
and sign up to win their competition here
http://www.historiamag.com/sign-up-to-win/
There is an interview with me in this month's new History of Royals magazine:
'Alison's portrait of a queen', my interview with Trevor Heaton, appeared in the Eastern Daily Press on 18th May 2016.
Listen to my interview with Donna Freed for Radio Gorgeous here:
https://audioboom.com/boos/4580395-alison-weir-katherine-of-aragon-the-true-queen-six-tudor-queens-author-of-the-week-with-donna-freed
Read about Katherine of Aragon: The True Queen at
http://www.thebooktrail.com/book-trails/six-tudor-queens-katherine-of-aragon/
"Alison Weir shares the inspiration behind her new Six Tudor Queens series":
https://historicalnovelsociety.org/alison-weir-shares-the-inspiration-behind-her-new-six-tudor-queens-series/
"Alison Weir's new series: The six things I'm most looking forward to discovering":
http://www.royalhistorygeeks.com/alison-weirs-new-series-the-six-things-im-most-looking-forward-to-discovering/
My interview with Leigh Chambers for Bookmark on Cambridge 105 radio can be heard here:
http://cambridge105.fm/?s=Alison+Weir&submit=Search
Katherine of Aragon features among the Top Summer Holiday Reads of
https://www.airtours.co.uk/blog/top-summer-holiday-reads/
, where I've written about my perfect holiday.
The Headline special edition (above left) was one of 200 advance uncorrected proof copies exclusively given to audience members at the 'H is for History' events at the Harrogate History Festival in October 2015. The image in the centre shows one of Headline's specially commissioned review copies, printed in November 2015. The symbol is Katherine's pomegranate badge. Right: this FREE ebook introduction to the Six Tudor Queens series 'Six Tudor Queens: Writing a New Story' was published in the UK on 10th March 2016.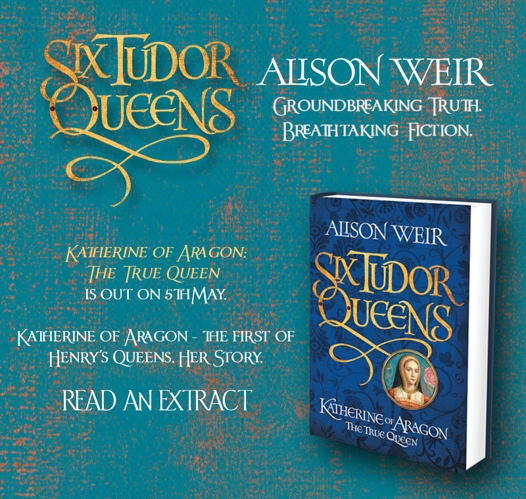 You can access the Newsletter content above at Headline's Alison Weir website at
http://sixtudorqueens.co.uk/
.
The exclusive Waterstones edition of the novel has added content: "In Search of Katherine" - a guide to sites in England connected with Katherine of Aragon.
Katherine of Aragon: The True Queen was chosen as one of Kobo's Best of the Month in May 2016.
H is for History: A review of Alison Weir's fascinating talk on the Six Wives of Henry VIII to introduce her novels for Headline starting in 2016


It was a chilly Wednesday night as over 200 guests were lucky enough to gather in the Royal Chapel of the Tower of London to hear Alison Weir's illuminating talk on the Six Wives of Henry VIII. From 2016 Headline are incredibly excited to publish a novel a year about each of the six wives. The audience was completely spellbound as Alison explained how she would write the novels and how these novels would be different from the non-fiction works she has written about Henry VIII and his wives in the past:
"I want to seek out the truths that lie behind the historical evidence, and for this fiction is a versatile medium, because it offers the scope to develop ideas and themes that have no place in a history book, but which - based on sound research and informed guesses – can be of real value in illuminating the lives of these long-dead queens, and explain their motives and actions. A historian uses such inventiveness at their peril - but a novelist has the power to get inside their subject`s head, and that can afford one insights that would not be permissable to a historian, and yet can have a legitimate value of their own. A historian has to work within the strict constraints imposed by the source material and credible speculation. A novelist, however, is able to use their imagination to fill in the gaps - although I strongly feel that what they write must be credible within the context of what is known about the subject."
Alison also tantalised the audience promising that the books would explore exciting revelations and newly discovered elements of each of the wives' lives:
"In all the romancing, has anyone wondered what Anne Boleyn felt about being pursued by Henry VIII? Or that Prince Arthur, Katherine of Aragon's first husband, cared so little for her that he willed his personal effects to his sister? Or that Henry VIII, an over-protected child and teenager, was prudish when it came to sex? That Jane Seymour, sometimes portrayed as the wife Henry loved best, was no milksop wench but had the makings of a matriarch?"
Sadly for the audience Alison didn't divulge much more or go into precise details. We'll have to wait for the books.
What we did learn though was that it wasn't easy being one of Henry's wives. In that role your main job was to give him a male heir – something which they nearly all failed at pretty spectacularly. As Alison said:
"Only one of Henry VIII's wives left an enduring legacy. Ironically it was Anne Boleyn, who died violently and shamefully. As Shakespeare wrote, 'From her will fall some blessing to this land which shall in it be memorialized.' That blessing was Queen Elizabeth I. No one would have been more surprised than Henry, who had married six times and chopped and changed wives to get a male heir! No wonder Shakespeare wrote, 'I would not be a queen for all the world.'
It was fascinating to hear more about the wives in such an important location for many of them – Anne Boleyn of course met her death at the Tower and, as Alison said during her talk, "She is buried just inches from where I am standing."
Alison's talk lasted a full hour, which flew by, but she followed up with a series of questions from the audience, which included whether she had a favourite of the six wives and what did she make of the different portrayals of Cromwell – what was her take on him when compared to that of Hilary Mantel and Wolf Hall for example.
It was an amazing experience to be one of the lucky few who attended the event and I'm sure that we're all looking forward to the books – the first, on Katherine of Aragon, will be out in 2016.
A MARRIAGE MADE IN BLOOD
ARTHUR TUDOR, PRINCE OF WALES and KATHERINE OF ARAGON
There is a significant gap in our knowledge of Tudor history. Numerous biographies of members of the Tudor dynasty have been written, yet not one has been devoted to Arthur Tudor, Prince of Wales (1486-1502), the older brother of Henry VIII. Had he lived, Arthur would have become King of England (and Henry, very probably, Archbishop of Canterbury), but Arthur died young, the victim of a mystery illness, before he could reach his potential. Even so, he had united in blood the warring royal dynasties of Lancaster and York, made a spectacular marriage and shown all the signs of becoming a great Renaissance prince. His tragedy was that he died too soon.
Arthur was born in 1486, the year after his father, Henry VII, the first Tudor King, had vanquished Richard III, the last of the Plantagenets, at the Battle of Bosworth and founded a new, usurping dynasty. To consolidate his weak claim to the throne, Henry had married Richard`s niece, Elizabeth of York, the daughter of Edward IV. Arthur, their first child, was born prematurely at eight months. He was to be joined in the royal nursery by several siblings. His sister Margaret, born in 1489, married the King of Scots. His younger brother Henry, born in 1491, was made Duke of York. Arthur received a fine education that would prepare him for kingship.
Needing to forge alliances with the great powers in Europe, Henry VII negotiated a great marriage for his heir. Katherine (Catalina) of Aragon (1485-1536) was the youngest daughter of Ferdinand and Isabella, the sovereigns who founded a united Spain. The negotiations between the two kingdoms commenced when Arthur and Katherine were mere infants, and would drag on for several years, with the children sending each other affectionate letters in Latin, coached by their tutors. A happy conclusion was delayed several times because of the threats to Henry`s unstable throne from a succession of pretenders who claimed to be the true heirs of the Plantagenets. For eight years, from 1491 to 1499, Henry VII`s security was overshadowed by the most dangerous of these pretenders, Perkin Warbeck, who claimed to be the younger of Queen Elizabeth's late brothers, the Princes in the Tower, and was acknowledged as Richard IV by several European princes. By 1497, though, he had been captured by Henry VII, who treated him remarkably leniently – until Warbeck escaped, when he was consigned to a grim prison in the Tower. Soon afterwards, however, another pretender emerged, who claimed to be Richard III's nephew, the Earl of Warwick.
By now, Ferdinand and Isabella had had enough, and warned Henry that they would not consider sending their daughter to England until the captive Warwick, who was innocent of any intrigues, had been executed. Consequently, it was made easy for Perkin Warbeck to gain access to Warwick, and before long, the two were discovered to have been plotting treason. It seems likely that an agent provocateur had been used by the government to frame them. Both were executed. Years later, when Katherine of Aragon spoke of her matrimonial troubles, she attributed them to the fact that her union with Arthur had been 'a marriage made in blood'.
Katherine finally came to England in 1501, when she was nearly sixteen, bringing with her a magnificent dowry, and so strictly guarded that her duenna refused to allow even the King to see her unveiled. Fearful that he had been sold a bad bargain, Henry VII insisted on seeing her face, and was relieved to find that she was very pretty, with red-gold hair and a curvaceous figure that boded well for the bearing of the heirs that would continue his dynasty. Arthur, now fifteen, expressed himself delighted with his bride, and their lavish wedding at St Paul`s Cathedral - the only royal wedding to take place there prior to Prince Charles`s marriage to Lady Diana Spencer in 1981 – followed in November 1501.
There were concerns as to whether Arthur should tax his strength by consummating the marriage, very real concerns, as Katherine`s only brother, the Infante Juan, had died young as a result (it was thought) of over-indulgence in the nuptial bed. Arthur`s health was known to be precarious. Nevertheless, the young couple were ceremonially put to bed together on their wedding night. What happened between the sheets was, years later, to become a matter of great debate, but it was assumed at the time that the marriage had been consummated.
Soon afterwards, Arthur was sent to Ludlow Castle on the Welsh border to learn how to govern his principality. Despite continuing concerns as to the advisability of allowing husband and wife to cohabit, Katherine was allowed to accompany Arthur, and they spent the next six months residing at Ludlow and Bewdley.
In April 1502 Arthur died. There was an epidemic in the area, and Katherine herself became ill, so it has been suggested that Arthur succumbed to plague or the sweatng sickness. Another theory is that he suffered from testicular cancer. The more traditional explanation is that he was the victim of tuberculosis. Recently evidence has been uncovered that solves the mystery.
Arthur's death proved devastating for his parents – his mother would die the following year after giving birth to the child that was conceived of their grief - and for Katherine, who was now to endure seven years of penurious widowhood before being rescued by her knight in shining armour, Henry VIII. But that is another story.
REJECTED JACKETS
Left and centre: the original UK jacket and artwork. Right: It's not Katherine on the cover of this beautiful Czech edition. The portrait was re-identified as Mary Tudor, sister of Henry VIII, in 2008.
MISCELLANY
Launching Katherine of Aragon: The True Queen in the Great Hall at Hampton Court Palace on 9th May 2016
For a woman whose life was shadowed my many tragedies, Katherine of Aragon has been strangely quiet in the afterlife. Her ghost is said to walk the gallery of Kimbolton Castle, near to the room where she died. Some say that she walks on the original floor levels, which have been altered since her day, so that her ghost appears as legs and lower body projecting from the ceiling on one floor with her head and upper body gliding along the floor above. Katherine is also said to have been sighted many times at Buckden Towers, where she was imprisoned in 1533-4. The spectre of a young woman wearing Tudor costume has been sighted at Castle Lodge, Ludlow, in the attic corridors and the nursery. People have reported cold spots and seeing the figure disappearing through a closed door. It's been claimed that this is the ghost of Katherine, who stayed at the Lodge with Prince Arthur.
Seen by my editor in New York!