Books
Elizabeth of York: The First Tudor Queen/Elizabeth of York: A Tudor Queen and Her World (2013)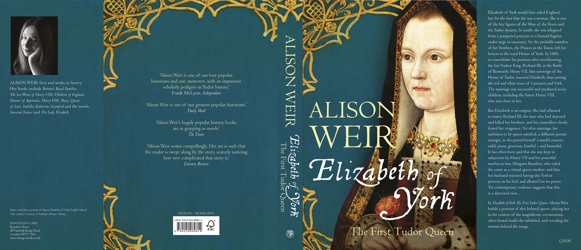 This book was published on 7th November 2013 in the U.K. and on 3rd December in the U.S.A..
It was 2013's second best-selling U.K. historical biography, after War Dog by Damien Lewis, and the 5th best-selling historical biography in the U.S.A. (making Alison Weir the highest-ranking British author in that category).

NEW YORK TIMES bestseller.

Elizabeth of York would have ruled England, but for the fact that she was a woman. She was one of the key figures of the Wars of the Roses and the Tudor dynasty. In youth, she was relegated from a pampered princess to a bastard fugitive living under siege in sanctuary, yet the probable murders of her brothers, the Princes in the Tower, left her heiress to the royal House of York. In 1486, after overthrowing the last Yorkist King, Richard III, at the Battle of Bosworth, Henry VII, first sovereign of the House of Tudor, married Elizabeth, thus uniting the red and white roses of Lancaster and York. The marriage was successful and produced seven children, including the future Henry VIII.

But Elizabeth is an enigma. She had schemed to marry Richard III, the man who had deposed and probably killed her brothers, and his councillors clearly feared her vengeance. It is likely that she then intrigued on behalf of Henry Tudor. Yet after marriage, her ambition to be queen satisfied, a different picture emerges, as she proved herself a model consort, mild, pious, generous, fruitful – and beautiful. It has often been said that she was kept in subjection by Henry VII and her powerful mother-in-law, Margaret Beaufort, and that her husband resented having this Yorkist princess in his bed, and allowed her no power. Yet contemporary evidence suggests that this is a distorted view. Elizabeth was influential, and may have been involved at the highest level in one of the most controversial mysteries of the age.

In Elizabeth of York Alison Weir builds a portrait of this beloved queen, placing her in the context of the magnificent, ceremonious, often brutal, world she inhabited, and revealing the woman behind the image, showing that differing historical perceptions of Elizabeth can be reconciled.





"Alison Weir is so sure-footed within the last days of the medieval period and so careful to seek out corroborative evidence that her interpretation of character and events, often necessarily speculative, is convincingly balanced. The compelling drama of Elizabeth's life, the traumatic perils she faced as a young woman, the murder of her brothers by Richard III and the later mystery of Perkin Warbeck, are richly presented." (The Times)

"Weir tells Elizabeth's story well. She is a meticulous scholar. The everyday minutiae of life are painstakingly described. Most important, Weir sincerely admires her subject, doing honour to an almost forgotten queen. Elizabeth, she argues, 'is often unfairly overshadowed by her successors, the wives of Henry VIII, but she was more successful as queen than any of them. For this, and for her integrity, and her many kindnesses, her memory deserves to be celebrated.'" (The New York Times)

"I am looking forward to reading Alison Weir's Elizabeth of York (Cape, November). The daughter of Edward IV whose marriage to Henry VII symbolised the union between Lancastrians and Yorkists and a new era of peace, she was a woman of strength and character and she deserves the full and searching examination that Weir always gives us. Weir has a talent for finding stunning new evidence and I understand she has uncovered fascinating material about a link between Elizabeth and the man who confessed to killing the Princes in the Tower. I am expecting a gripping book, full of moving insights - the biography that Elizabeth of York has long deserved. A vital contribution to scholarship and historical enjoyment, Elizabeth of York promises to be fantastic stuff full of archival revelation and vivid investigation. – and I can't wait to read it." (Dr Kate Williams, author and historian - full text of her article in the October issue of BBC History magazine)

"Terrific!" (The Sunday Times)

"Weir is a fine writer with a wonderful gift for description. Her depiction of Richard III's seizure of the throne is refreshing antidote to the emotional claptrap surrounding the discovery of the last Yorkist King's body under a car park. Elizabeth of York has long deserved a thorough biography, and Alison Weir has done her proud." (Linda Porter, The Literary Review)

"Weir revises the controversial reputation and politocal influence of the eldest daughter of Edward IV. Once again she perfectly combines the dramatic colour and timing of an historical novelist with the truth to fact of a scrupulous historian." (The Times Saturday Review)

"The bracing biography reveals a woman of integrity, who, while honouring her Yorkist heritage, grew to love her husband, became a kind and generous queen consort, and helped him lay strong groundwork for the success of the Tudor dynasty. As always in a Weir book, the tenor of the times is drawn with great colour and authenticity." (Booklist)

"Weir, an authority on 15th- and 16th-century English history, revises some of her previous thinking regarding the fate of the "Princes in the Tower," but the major focus is Elizabeth's life, portrayed in great detail, from marriage ceremonies and royal itineraries to the food, books, gifts, and clothing of her day. Weir argues her positions clearly and, in balancing the scholarly with emphases on Elizabeth's emotional and psychological life, she should reach a wider audience than traditional histories." (Publishers Weekly)

"Alison Weir is first and foremost a historian, but when you combine this with her writing skills and ability to make us care about historical figures whether popular or less known, then you can guarantee that any book with her name on it 'does what is says on the tin'. This is a story of intrigue and mystery, a story of a woman often forgotten in history but who was right at the heart of the action during the golden era of the Plantagenets and the rise of the Tudors. [To] delve into Elizabeth's story is to find out a different story altogether overlooked.There is a lot of history covered here. It is a very detailed book but is not a heavy read thanks to the skill of the author. The nature of her writing, the development of her findings is impressive as are the conclusions she comes to. I thought I'd read everything there was to read on Elizabeth of York and her family. How wrong was I? For a history lesson and a fascinating read – Elizabeth of York is THE place to start. One to add to the growing pile….." (The Book Trail at www.wordpress.com)

"Alison Weir examines contemporary evidence and builds a fascinating portrait of this queen, placing her in the context of the magnificent, ceremonious, and often brutal world she inhabited, uncovering the woman behind the myth." (Eastlife)

"Weir does a great job at giving the reader the whole picture of the major people and events surrounding Elizabeth of York. While the main focus is on Elizabeth, it is Weir's ability to give the reader the whole picture that really brings this period into focus. I also really enjoyed the little details like describing the food, everyday things that happened, and even the costs to make this period more relatable to the reader giving them a more detailed picture of how these people lived. Elizabeth of York was a fascinating woman, and Weir does an amazing job at showing why she such a notable queen. Overall this book was an amazing read that I would most definitely recommend to any history fan of the Tudors and Elizabeth in particular and any fan of historical fiction about Elizabeth because this book provides a very detailed background on her." (Goodreads)

"This biography of Elizabeth of York was certainly as gripping as a finely honed novel. Everything was meticulously researched and presented in a sensible fashion - I often eyeroll reading historical biographies, as the writers find themselves having to make rather large leaps in conclusion, but not so here. Recommended!" (Goodreads)

"The distinguished historian Alison Weir offers readers another wonderful excursion into the late medieval and early renaissance English monarchy with her latest offering, a compelling biography of an extraordinary woman, Elizabeth of York. What emerges in [this] highly recommended portrait - especially as her effort is enhanced by vivid and sometimes startling research - is a frequently complicated woman of contradictions, a sometimes seductive woman of mystery, and - as many, including the feckless Henry VII and the notorious Richard III, would find out - Elizabeth of York was a fiercely headstrong woman of sometimes baffling motivations. The bottom line, readers, is this: If you enjoy brilliantly written narrative history, and if you enjoy making jaw-dropping discoveries about the formative years of the Tudor dynasty in England, then look no further. You must read Alison Weir's biography of a fascinating, enigmatic woman." (BookLoons)

"History fans shouldn't hesitate to read this fascinating biography. Elizabeth of York is a figure who's been largely lost to history, though she was pivotal in England's history; Philippa Gregory brought her to life in her historical novel The White Princess, but as always, she takes liberties with her characters and story. It's nice to have this well-researched account to balance the fiction, and it provides an eye-opening glimpse into the life of the first Tudor Queen." (S. Krishna's Books)

"Weir has done her homework, and it shows in the immense detail she provides. The book provides much new detail about the life and times of this often-overlooked monarch. Elizabeth of York was an enabler, a catalyst of the never-ending actions and reactions that create royal dynasties. Weir's history successfully illuminates both the character and the period." (Washington Independent Review of Books)

"Weir builds an intriguing portrait of this Queen, placing her in the context of the magnificent but often brutal world she inhabited." (Lancashire Evening Post)

"If Thomas More was a man for all seasons, then the female equivalent was surely Elizabeth of York. Alison Weir's comprehensive and very readable portrait reveals not just her life but the woman behind the myth, the Queen respected by her husband, adored by her son and revered by the nation... Weir has dug deep to come up with a new and very different perspective on this most regal of queens [and] does full justice to a much-underestimated and quietly resolute queen, allowing her to blossom as a woman 'impeccably connected, beautiful, ceremonious, fuitful, devout, compassionate, generous and kind'." (Morecambe Bay Visitor)

"There is much to admire in [Weir's] biography, and a strong picture of the first Tudor Queen emerges." (The Mail on Sunday, Event)

"We sense a living, breathing personality...; we feel for her." (The Independent, Radar)

"Behind the book's easy style there is some serious scholarship. Weir argues that, far from being passive, Elizabeth was determined to wear the crown." (The Lady)

"Alison Weir's Elizabeth of York is the first, non-academic biography of a woman who is solidly wedged into British history as one of the cornerstones of the Tudor dynasty. Daughter of Edward IV, wife of Henry VII and mother of Henry VIII, Elizabeth of York is an elemental yet elusive part of England's story. Thank goodness, Alison Weir is here to remedy this situation. As usual, Weir explores and exposes the life of Elizabeth of York brilliantly and quite thoroughly. Using many primary as well as secondary sources, Weir is able to tease out tidbits of information readers will enjoy devouring. As these carefully discovered facts come together, a portrait emerges of a queen who is a perfect consort for Henry VII; Elizabeth is pious and generous and, obvious from his devotion to her, a good wife for Henry. She was also a good mother, causing her children great grief when she died. In Weir's skillful hands, Elizabeth of York returns to us, full-bodied and three-dimensional. This is a must read for Tudor fans!" (Historical Novels Review)

"Elizabeth of York by Alison Weir... making an elusive queen less so." (The Bookbag)

"Weir once again demonstrates that she is an outstanding portrayer of the Tudor era, giving us a fully realized biography of a remarkable woman." (Huntington News)

In Paperbacks of the Week: 'Weir's sympathetic and richly detailed biography reassesses the life of a woman whose role in public life, not least as the beloved mother of Henry VIII, has been underrated by historians." (Event magazine, The Mail on Sunday)



REJECTED US JACKETS





ELIZABETH OF YORK is one of the key dynastic figures in the English monarchy. Daughter and heiress of Edward IV and the royal House of York, she was the rightful queen of England, yet had to be content with the role of queen consort. She married Henry VII, first sovereign of the House of Tudor in 1486, thereby bringing an end to the Wars of the Roses and uniting the red and white roses of Lancaster and York. She is the ancestress of every British sovereign since.

She was the sister of Edward V and Richard of York, the Princes in the Tower, whose disappearance – and probable murder – in 1483 were to overshadow most of her adult life. Alison Weir has discovered evidence that she may have been instrumental in securing a confession from the man who arranged the murders.

Her hand was sought by two kings – scandalously and incestuously, by her uncle, Richard III, who had declared her and her siblings bastards, usurped her brother's throne and probably had him killed; and by Henry Tudor, Richard's rival. The outcome of the Battle of Bosworth in 1485 resolved the issue and sealed Elizabeth's fate.

She was the mother of Henry VIII, who loved and revered her – so much so that it probably had a disastrous effect on his relationships with his six wives.

She was beautiful, generous and kind, and Alison has hopefully demolished the myth that she was oppressed and subjugated by her husband and his mother, Margaret Beaufort. She was greatly loved by them both, and enjoyed not only a successful and touchingly happy marriage, but also influence behind the scenes, the King's confidence and enormous popularity. In every respect she was the perfect queen.


Read Alison Weir on Elizabeth of York: THE DIANA OF THE TUDOR DYNASTY in The Independent, 23 November 2013




Alison Weir is buzzing with a new discovery. "It was one of my 'oh-my-God' moments – though it's been there for all to see since the 19th century, when the Privy Purse accounts were published," she says, animated. A five-day visit by Elizabeth of York, Henry VII's Queen, to the Tower of London in 1502 immediately preceded the arraignment and beheading of Sir James Tyrell, the suspected murderer of Elizabeth's brothers, the Princes in the Tower. While there, Elizabeth was in contact with the Abbess of the Minoresses – a cousin of Tyrell's, sheltering his sister and another cousin – sending money in exchange for a gift of rosewater. Was the real purpose of her visit, Weir postulates, to extract a confession from Tyrell, or perhaps to meet him, at his request, as he would only willingly confess to her? "Elizabeth acted to the full within the traditional sphere as Queen – Henry encouraged that. But in the last year of her life, we have an insight [when considered with other evidence] that there was so much trust between them, Henry may have entrusted her with state secrets too."
Another key question of Elizabeth's character that Weir gets stuck into is how seriously her early overtures of marriage to her own uncle, Richard III, should be taken. A February 1485 letter from Elizabeth to John Howard, Duke of Norfolk, which has come down to us in fragmentary form due to a fire, appears to proclaim Elizabeth's commitment to Richard "in heart and in thoughts, in body and in all". Historians in the 19th century dismissed the letter as fake, thinking Elizabeth incapable of "sentiments so repulsive". Weir, while now discounting the possibility of a physical liaison between the King and his teenage niece, sees the letter as entirely plausible, the reference to a "body" a fulsome metaphor. Elizabeth wants this marriage "because it is the only way out of the situation she's in" – even after her family's release from sanctuary in Westminster Abbey, they remained subject to a ruthless usurper who, by statute, had declared Elizabeth and her siblings bastards. This shows, Weir argues, how far Elizabeth was ready to go to preserve her royal status, but also, as Henry VII's court historian Bernard André put it, "a truly wonderful obedience" to her mother and "almost incredible … unbounded love" for her siblings – the bedrock of her adult devotedness.
Both incidents show off Weir's craft as a historian – careful interrogation of the sources matched with imaginative deductions of what characters might be doing. But they also show what territory we are in with this biography's subject – the crowning concerns are subtle questions of the exercise of power, the politics fundamentally domestic, even when it touches on foreign princesses. Large parts of the book aren't about Elizabeth, but background on the deeds of her gluttonous father, the mystery over the Princes in the Tower, and the desperado missions of the Yorkist pretenders. Was it an anti-climax, after writing so many books on strong, charismatic women – from John of Gaunt's wife Katherine Swynford to Anne Boleyn – to choose such a dutiful heroine?
Weir sees her as a historical challenge – from being a young woman "she's quite proactive, she loses her voice. She's achieved what she wanted to" – and turns the tables on modern feminist assumptions. To medieval commentators, it was not the likes of Henry VI's "great and strong-laboured" wife Margaret of Anjou who represented the ideal but "the Virgin Mary, as exemplified by her chastity and humility" – and despite seven children, Elizabeth came closer than any to her.
She was no Elizabeth I-style bluestocking but had plenty of other qualities. Weir believes the rather sickly contemporary praise for her virtue and ability was genuine because "it's unanimous". "She must have had influence" of a backroom kind, " because of the number of influential people seeking her patronage". And the fact that common people brought her presents shows she was " immensely popular – the Diana of her day"; much more so than the King, who alienated plenty through heavy taxes.
Did Weir consider a joint biography of Henry and Elizabeth? " That would be a very long book," she deadpans. There are numerous constraints on suitable subjects for a new work: "You try to think of a Tudor subject that hasn't been done." In principle, she'd jump at a non-British subject, such as Golden Age Spain, but she refuses to compromise on anything less than doing all her own research on original sources.
She has a circle of good historian friends with whom she discusses ideas, including Princess Margaret's biographer Christopher Warwick, Linda Porter and Sarah Gristwood – particularly women, as "I think we've been engaged in retrieving women's histories from the doldrums". Her inspirations include the Forties historical novelist Norah Lofts, and Antonia Fraser – "I wanted to be her. I never thought I'd have a book like that published" (Elizabeth is her 20th).
She's closely engaged with her fan base, having done over 600 events since she took up professional history writing two decades ago. She deplores the misogyny of TV history by which "no one cares what Simon Schama and David Starkey" look like, but when it comes to female talking heads it's all about attractive young women. Her unease extends to the way academic history is taught, fixated on what historians say about each other to the point where this takes over from the sources.
Michael Gove has not called her up to ask her advice on the history curriculum but, she says, they "would agree on a lot". She studied for a Post-Graduate Certificate in Education but, disillusioned with Sixties methods, became a civil servant. When her daughter's homework was marked down 25 years later, for failing to empathise with Francis Drake, her indignation was renewed. Her experience of being hooked on history as a teenager, taught her about the power of a strong narrative, which she applied in the special school she ran for her son and other local children with learning difficulties. She's emphatic that the chronological sequence of British history should be taught ("it's so important, what has shaped us as a nation"). Alluding at this point to Tony Blair and his limited regard for the past brings forth a growl – "We've been conditioned to a PC way of thinking. History makes you see society in context, understand how rulers behave."
Weir has published a history book every two years since 1991. Next up might be a biography of Margaret Douglas, Countess of Lennox, Elizabeth of York's granddaughter, and mother of Lord Darnley. Her recent turn to historical fiction has required a new perspective but is underpinned by the same careful delineation between facts and speculation observed in her biographies. Elizabeth of York seems an unlikely romantic heroine for a future tale – but perhaps that is to underestimate the co-founder of the Tudor dynasty once again.

http://www.independent.co.uk/arts-entertainment/books/alison-weir-on-elizabeth-of-york--the-diana-of-the-tudor-dynasty-8942579.html


A TUDOR OF RARE TALENT
ELIZABETH OF YORK: THE TUDOR MATRIARCH
By Alison Weir (B.B.C. History Magazine, 2013; full unedited version)




This article was also published in BBC History Magazine's The Story of the Tudors (2014)




In a richly illuminated early sixteenth-century manuscript, the 'Vaux Passional', in the National Library of Wales in Aberystwyth, there is an illumination (detail reproduced below) showing the presentation of a book to King Henry VII, the first Tudor monarch. Behind the throne to one side can be seen an empty black-draped bed, and kneeling beside it, his red-haired head buried in his arms, is a young boy in a green tunic. Almost certainly this image portrays the young Henry VIII weeping for his mother, Elizabeth of York, who died in 1503 when he was eleven.
This illustration suggests that his closeness to his mother was well known. We have his own testimony to his grief at her loss: four years later, in a letter about the untimely demise of the Philip I of Castile, he wrote: 'Never since the death of my dearest mother hath there come to me more hateful intelligence. It seemed to tear open the wound to which time had brought insensibility.'
Elizabeth of York played an important role in the Wars of the Roses and the early Tudor story. Born in 1466, she was the eldest daughter of the Yorkist King Edward IV, sister of the Princes in the Tower, and niece of Richard III, who had her and her siblings declared bastards so that he could claim the throne. The probable murder of her brothers in the Tower of London in 1483 meant that, in the eyes of many, Elizabeth was the rightful Queen of England. Richard III himself contemplated marrying her, but in 1485 Henry Tudor, who claimed to be the heir to the House of Lancaster and had sworn to marry Elizabeth, came from France with an army and defeated Richard at the Battle of Bosworth. Thus was founded the Tudor dynasty, and the subsequent marriage of King Henry VII and Elizabeth of York was hugely popular, for the union of the white rose of York and the red rose of Lancaster was seen as bringing peace after years of dynastic war.
Elizabeth was intelligent and beautiful. A Venetian report described her as 'a very handsome woman of great ability, and in conduct very able', beloved for her abundant 'charity and humanity'. The Humanist scholar Erasmus, described her in one word – 'brilliant'.
That there was affection and tenderness between Henry and Elizabeth cannot be doubted. A Spanish envoy claimed in 1498 that Elizabeth 'suffered under great oppression and led a miserable, cheerless life'. Yet there are many instances of the King showing genuine concern for her health and her happiness; and on this isolated occasion Elizabeth probably appeared subdued because she was newly pregnant and unwell.
In 1613 Sir Francis Bacon asserted that Henry VII was 'nothing uxorious, nor scarce indulgent' and 'showed himself no very indulgent husband, though she was beautiful, gentle and fruitful'. But there is little else to support his damning assessment of the marriage. The couple's early years together may have been challenging, for Henry had to overcome his suspicions of his Yorkist bride and deal with her dangerous relations. Yet she clearly left him in no doubt as to where her loyalties lay. As time passed, he clearly grew to love, trust and respect her, and they seem to have become emotionally close. There survives good evidence that she loved him, and a moving account of how they comforted each other when their eldest son, Arthur, died.
Kings were not expected to share government with their queens, or to rely on their advice, and certainly they were not supposed to be influenced by them in political matters. Queens were applauded when they used their gentle feminine influence to intercede with the King where appropriate, and thus enabled him to rescind a decision without losing face. Instances of Elizabeth using her influence probably went largely unrecorded, due to her intimate relationship with the King. It was accepted that, she might be privy to matters of state, but advice that she might have read urged that her 'wisdom ought to appear in speaking, that is to wit that she be secret and tell not such things as ought to be holden secret'. There are instances of Henry paying heed to her concerns, but it was not in his nature generally to be swayed by her.
Elizabeth performed her queenly role to perfection, understanding exactly what was required of her, and conforming seemingly effortlessly to the late medieval ideal of queenship, which constrained her to a role that was essentially decorous, symbolic and dynastic. She was beautiful, devout, fertile and kind – the traditional good queen. In the past, historians tended to compare her favourably to Margaret of Anjou, that 'great and strong laboured woman'; yet today, in the wake of a revolution in women's liberation, it is the pro-active Margaret, vigorously fighting her husband Henry VI's cause, who earns admiration, rather than the passive Elizabeth. Gentleness, fruitfulness and piety are no longer admired qualities in women. We have learned to admire them for what they do, and for their strengths. But in Elizabeth's day, queens were not expected to do very much beyond exemplifying the humane, feminine side of monarchy – interceding for others, being charming to foreign ambassadors, or winning popularity by their charities, their gifts to the poor, their pilgrimages and their pious example. Getting involved in politics and wars were steps too far.
Unlike Margaret of Anjou, Elizabeth never identified herself with factions at court; unlike her mother, Elizabeth Wydeville, she did not promote a horde of ambitious relatives. Certainly she was not as politically inclined, or as politically active, as Elizabeth Wydeville. Once she achieved her ambition to be queen, she interested herself chiefly in affairs that were her legitimate concerns: her household, her estates, her court and her children. But her Plantagenet blood and her superior claim to the throne placed her in a difficult position, especially when Yorkist pretenders emerged to contest Henry VII's throne. How she rose to these challenges we do not know, yet we can surely infer, from the emerging harmony of her married life, that she took care never to be controversial and always to place her husband's interests first.
From time to time, the King involved her in diplomatic relations, mainly in connection with the marriages of their children, in the arranging of which queens traditionally played a role. It is often said that Henry allowed Elizabeth no power at all, but evidently it was known that she exercised a gentle, unobtrusive influence on him, as is evidenced by the endless stream of gifts to her from powerful persons who clearly believed that her patronage was worth having. There are instances of her exercising authority independently of her husband, intervening in matters of law, and petitioning him on behalf of her servants, London merchants and others. When one of her Welsh tenants complained of the heavy-handedness of Henry's uncle, Jasper Tudor, Earl of Pembroke, she did not refer the matter to the King but sent a sharp reproof to Pembroke herself, which apparently achieved the desired result.
In another letter Elizabeth rebuked John de Vere, Earl of Oxford, in regard to the disputed ownership of a manor. Here we see her being firm, fair and concerned to right a wrong, and her influence must have been known to be effective, or Simon Bryant would surely not have judged it worth appealing to her for help.
In February 1502 Elizabeth's brother-in-law William Courtenay was imprisoned in the Tower on a charge of treason. Her accounts show that, a month beforehand, she had taken into her charge his young children, whom she would now succour with their mother, her sister Katherine. This suggests that Henry VII had come to rely Elizabeth so absolutely that he confided his intentions to her, essentially entrusting her with a state secret of the highest level. There is also evidence that Elizabeth may have been connected in some way with Sir James Tyrell's confession that he had murdered the Princes in the Tower, which he is said to have made before his execution in the summer of 1502.
Elizabeth's legacy to the Tudor dynasty was her Plantagenet blood, which compensated for any deficiency in Henry VII's descent. Ceremonious, fruitful, devout, compassionate, generous and kind, she fulfilled every expectation of her contemporaries. Her goodness shines forth in the records; she was greatly loved, and deservedly so. Certainly the sources show that, as queen, she played a greater political role than that with which most historians have credited her, and that she was active within her traditional areas of influence. It is also clear that, far from being in subjection to Henry VII and his mother, Margaret Beaufort, she enjoyed a generally happy relationship with both of them. Elizabeth is often unfairly overshadowed by her successors, the wives of Henry VIII, but she was a more successful queen than any of them. For this, her integrity and her sweet, good nature, her memory deserves to be celebrated.

Timeline
1466 – Elizabeth of York is born at Westminster, the eldest of the ten children of
Edward IV, first sovereign of the House of York, and his Queen, Elizabeth
Wydeville.
1475 – To cement peace with France, Elizabeth is betrothed to the Dauphin, the
future Charles VIII; from now on she is addressed as Madame la Dauphine.
1482 – Her betrothal is broken by the French, and she is very publicly jilted, to the
fury of Edward IV.
1483 – Edward IV dies prematurely. Elizabeth and her siblings are declared bastards
and Richard III usurps the throne of England. Her brothers, the Princes in the
Tower, disappear, believed murdered, leaving Elizabeth the heiress of the
House of York
1485 - Henry Tudor, the only viable heir of the House of Lancaster, overthrows
Richard III at the Battle of Bosworth, and ascends the throne as Henry VII.
Parliament declares Elizabeth legitimate.
1486 - Elizabeth marries Henry VII at Westminster amidst great rejoicing, for the
union of the white rose of York and the red rose of York promises to bring an
end to the Wars of the Roses.
1486 - Elizabeth bears Henry VII a son and heir, Arthur, Prince of Wales.
1491 - A second son, the future Henry VIII, is born.
1502 - Prince Arthur dies at Ludlow Castle of tuberculosis; his death impacts badly
on Elizabeth's health.
1503 - Elizabeth dies in childbed in the Tower, possibly of iron-deficiency anaemia,
and is buried in Westminster Abbey.



FROM PRINCESS TO QUEEN: INTERVIEW WITH ALISON WEIR
Nerdalicious, 2013




You have written books on the Princes in the Tower and the Wars of the Roses. What was it like returning to these subjects and looking at the events through Elizabeth of York's eyes?
It's fascinating to view them from another person's perspective, especially that of a woman who had very little power yet was integral to the high power politics of her day. Most of my research on her was done before I wrote those earlier books, so my task was to update it and re-evaluate it in the light of more recent work on the period. That meant re-examining the mystery of the fate of Elizabeth's brothers, the Princes in the Tower, because it had such a crucial bearing on her life.
The attitudes towards Richard III have evolved a great deal over the years, in particular he has been depicted as quite a romantic hero in fiction over the last few decades and lately we have seen his relationship with Elizabeth of York depicted as a sexual one. Do you think fiction authors are sensationalising the relationship between uncle and niece?
Richard III seems to have a strange charisma for many, despite the weight of evidence against him. I understand that, but it does concern me that some people get very emotional about him. After all, he died nearly 550 years ago, and his character is something of an enigma. So much that is written about him is subjective. The last thing I would see him as is a romantic hero! It would be less surprising if people got worked up about the sad fate, let alone murder, of the two dispossessed princes, whom Richard disinherited on dubious grounds and imprisoned. But I put my hand up to depicting Richard's relationship with Elizabeth as possibly a sexual one, in my book The Princes in the Tower (1992). I don't take that view nowadays. But when I was researching that book, A.N. Kincaid's new translation (or rather, reconstruction) of the controversial letter on which that theory rests had not long been published, and for the first time historians could read how Elizabeth declared that she was the King's in heart, in thought, in body and in all. The words 'in body' had never appeared in previous versions of the letter, so it looked as if they had been censored. I was not the only historian to interpret them as referring to a sexual relationship. But on reflection I think they mean something else entirely. I haven't read any fictional treatment of the relationship between Richard and Elizabeth, but I've read plenty that portray Richard's marriage to Anne Neville as a love story – for which there is no evidence – so it would not surprise me if his relations with his niece have been sensationalised. For which I fear I must bear some of the blame!
When Richard III publicly denied any intention to marry his niece and began to arrange a Portuguese alliance, offering Elizabeth's hand in marriage, you note that this would "leave her family without a friend in high places". Do you think that despite the fact that Richard III had overthrown her family and bastardised her that Elizabeth still saw herself as the rightful heir to throne?
Yes, all the evidence points to that. The letter cited above, and the poem describing Elizabeth's efforts to raise men for Henry Tudor – neither of which should be lightly dismissed - both show her manoeuvring to become queen of England, which, in the eyes of many Yorkist legitimists, she was.
You've taken a close look at Elizabeth's role in the events before Bosworth and the possibility that she enlisted Lord Stanley, her future father-in-law, to aid her, noting that a marriage to Henry Tudor seemed "the best way to satisfy her ambition, restore her rights and safeguard her kinsfolk". Do you think Elizabeth had a more active role in trying to determine her own fate than we have been led to believe?
Yes, I do. I place some credence on the sources cited above, which show Elizabeth actively working behind the scenes to achieve her ambition. Internal evidence in both the letter and the poem indicates that both have factual substance, although there is a degree of dramatic licence and exaggeration in the poem.
You called the marriage between Elizabeth and Henry VII the "most successful and stable marriage made by any of the Tudors." It was clearly a loving marriage and a very popular one, and much of Henry's bad reputation developed after her death, do you think this is largely to do with Elizabeth's nature and that she was a good influence on him, and in many ways an ideal wife and Queen Consort?
I would say that Elizabeth was in every sense an ideal wife and consort. She met every contemporary expectation. The sources show that she was a loving, kind and gentle woman, and as such she must have been a force for good in Henry's life. That she had influence with him is evidenced by the numerous gifts to her from powerful persons who clearly thought that her patronage was worth having. And the fact that Henry's character degenerated after her death speaks volumes.
One thing that seems to frustrate historians and readers alike is the fact that Elizabeth of York never made a public statement on the identity of Perkin Warbeck, the pretender who was posing as her dead brother Richard of Shrewsbury, Duke of York. Why do you think she stayed silent on the matter?
Elizabeth never publicly involved herself in politics. Whatever she did say was uttered in private, and it is hard to imagine her suggesting to a beleaguered Henry VII that Warbeck might really be her brother, even if she did entertain that suspicion. To have done so might have shattered the trust that the couple had built up over the years, and cast doubts on her loyalty. By the time Elizabeth set eyes on Warbeck, he had confessed to not being her brother, so there was no need for her to make any pronouncement on that.
You have made a fascinating connection between Elizabeth and Sir James Tyrell, the man who is said to have confessed to murdering her brothers, the Princes in the Tower, when Elizabeth made a visit to the Tower of London. You also noted a visit to Wales on her final progress and you surmise she may have still been looking for answers on the fate of her younger brothers. Do you think that Elizabeth truly had not known what happened to her brothers and that it may still have been haunting her?
I think she probably knew as much as Henry Tudor, Buckingham and Margaret Beaufort – that Richard III had intended to have the Princes killed (as he may well have confided to Buckingham, who promptly deserted him), and assumed, along with them, that he had done so. But the uncertainty, coupled with stories that the Princes survived, which emerged in Henry VII's reign, and the claim of Warbeck, probably led her to wonder. Speculation in Elizabeth's lifetime focused more on how they had died rather than on who killed them, because most people believed that Richard III had been responsible. The exact nature of their fate may have been what haunted her. If she did hear from Tyrell that he had arranged their murder, she might have sought corroboration elsewhere, possibly at Raglan. But we are way into the realms of speculation here.
Do you think Elizabeth of York was integral to the success of the Tudor dynasty?
Yes, certainly. Support for Henry Tudor was largely based on his consolidating his claim, and conquest, by marrying her, and her popularity helped to lay the bedrock of the dynasty's success. Henry VII may not have acknowledged the dynastic debt he owed to her, but Henry VIII did, recognising that his claim to the crown rested largely on his descent from his mother.

(http://nerdalicious.com.au/history/from-princess-to-queen-elizabeth-of-york-with-alison-weir/)



Henry VIII and his Mother




Elizabeth's influence on her son, Henry VIII, is hard to gauge. Given his extraordinary matrimonial career – six wives, two beheaded, three divorced, and only one son to show for it - historians have sometimes taken a psychological view, speculating that he was so traumatised by losing the mother he idolised that he developed an Oedipus complex, which drew him irresistibly into incestuous relationships whilst being outraged by them; but it has since been questioned whether such a condition even exists.

It is tempting to speculate that, had Elizabeth lived, Henry's marital career would not have been so colourful. Possibly his six marriages represented attempts to recreate the marital harmony of his parents, and mirror their example. The way he comforted Katherine of Aragon after the death of their son echoes the way his parents had consoled each other after Arthur died. Henry's eagerness to marry Katherine of Aragon, six years his senior, may have stemmed partly from the fact that she had been beloved by his mother; possibly she appeared as a mother figure to him. The qualities he admired in his wives – fidelity, dignity, piety, virtue, fruitfulness, intelligence and docility – were those his mother had had in full measure. He would have been too young to perceive any flaws in Elizabeth's character. For him, she probably remained the epitome of all that was desirable in a queen – with disastrous consequences for his own wives, who would suffer by comparison with such impossible perfection.



The History Girl: In Conversation With Alison Weir
by Genevieve Muinzer, for Historic Royal Palaces members' magazine, 2013




History seems to have captured the public imagination sending it to the top of book charts, television programmes and, dare one even say it, computer games. Since the late 1980s Alison Weir has been one of the leading writers to shake some of the dust off a subject that has been accessible to only the most rarefied academics and brought it alive to an appreciative, wider audience. For perhaps more than most historians she has contributed to the zeitgeist that has propelled history back into the public imagination, because she has reconnected women to a subject hitherto confined to the study of kings and wars.
It is somehow condescending to call her a popular writer for the level of research and insight she reveals is extremely detailed, not to mention her fluent writing style – not something you'd expect to read in a populist tabloid newspaper at all. And yet the soubriquet is still occasionally applied, one suspects by green-eyed authors who see the sales figures she yields and can only clock them in envy. A supporter and lecturer for Historic Royal Palaces, Weir is the highest-selling woman writer of historical biography in the UK and her work sells in the millions throughout the world. She certainly engages her readers and sustains their loyalty.
Alison Weir the woman and writer is engaging to meet. She melds many appealing traits: she is warm and scholarly, kindly and precise. You leave her feeling that she has served the women's cause both in history and the contemporary world extremely well and she does so without any hint of swank. Weir speaks warmly of her husband's support, and pays tribute to her mother who fanned the flames of her enthusiasm when she was a girl. So clearly is Weir happy in her own home life that I couldn't help asking her how she came to immerse herself in such a harrowing period as Tudor history, focussing on some of the most frightening and tragic lives as Mary and Anne Boleyn, and Mary Queen of Scots.
'Writing about Anne Boleyn was indeed a searing experience but I do try and stay as objective as possible,' she says. 'Above all I see myself retrieving women's histories. In the 60s some of the women I have written about were relegated to mere footnotes and didn't warrant much examination by historians. Publishers were very dismissive about women. In their eyes they certainly didn't merit biographies!'
Alison's trajectory into the world of history started with promise. As a schoolgirl she had fallen in love with medieval and Tudor history and was especially drawn to the women of the period. She drew genealogical tables, read widely and wrote a biography of Anne Boleyn when she was still in her early teens. 'I thank my mother for encouraging this passion by taking me to places such as Hampton Court Palace and Hever Castle. This was inspiring and made all the difference to my life. Just being able to visit these historic places spurred me on. I spent the 60s in libraries, visiting castles and playing pop records!'
But O-level History with its emphasis on the Industrial Revolution failed to absorb her and her marks were too low to allow her to enter the A level programme. Desperate to study the course, she showed her teacher her work on Anne Boleyn. Impressed, the teacher approached the school to argue on her behalf, but the powers above did not relent. 'It was ironic that the girls at school studying A-level History came to me for help when they needed information because they knew how absorbed I was in the subject.'
Resolute, she left school and studied for A-level History by herself, passing the subject well after only studying for five months. 'My real training in history came when I was at teacher training college, but I was profoundly disillusioned by trendy teaching methods and went into the civil service instead.'
A happy marriage and two children followed and she founded her own special-needs school. Through it all she purposely kept researching and writing.
'I continued to submit manuscripts, hopeful that something would be printed, and eventually Britain's Royal Families was finally published in 1989.' Ever since she has been a prolific author, publishing sixteen historical and biographical works and four books of historical fiction. 'My agent laughs when he recalls how I brought my projects in carrier bags!'
Her latest work, Elizabeth of York: The First Tudor Queen, has just been published. Elizabeth was the daughter, sister, niece, wife and mother of five English monarchs – Edward IV, Edward V, Richard III, Henry VII and Henry VIII respectively. Although her story has tragic elements, it does have an uplifting conclusion. In her youth her father had died and her brothers, the two little Princes, may well have been murdered in The Tower. Most controversially, she was prepared to marry her own uncle, Richard III, to save the rest of her family from possible death. As extraordinary as this all is, her story is not nearly as harrowing as those of the other royal women Alison has written about over the past 30 years.
'I was attracted to writing about Elizabeth because of her innate goodness and kindness. She was so loved by the people, especially by the poor, who even gave her presents, for which she rewarded them generously. She was very pious and went on pilgrimages, took orphans under her wing and paid for the funerals of executed criminals.' Even her husband, the relatively chilly Henry VII, loved her devotedly and planned a magnificent tomb for them both in Westminster Abbey, despite his notorious frugality. 'It is possible that Henry VIII's difficulties with women stemmed from the fact that he over-idealised his mother and made ill-fated comparisons with his wives. They couldn't really compete.'
Alison Weir is a motivating role model for women for although her website lists a very, very long list of plaudits from reviewers, she is anything but big headed. Plugging on despite years of discouragement she has become not only a best-selling author but also an entrepreneur, with sell-out history tours. And she shows sisterhood, not rivalry, in her dedication to her novel The Lady Elizabeth by identifying a leading group of women writers who, far from being competitors, she describes as friends: 'I know most of the people working in the field. One can learn much from them in the enjoyable exchange of ideas and theories. We're all supportive of each other. I feel very privileged to account many of them my friends.'


AN INTERVIEW WITH ALISON WEIR
U.S.A., March 2014

What inspired you to write Elizabeth of York?
I have always been interested in women's histories, especially those of queens, and in the 1970s I did a lot of research on medieval queens and Elizabeth of York. I'm hoping to write three books on the medieval queens, but I felt that Elizabeth deserved a full biography. Over the years many people urged me to write one, but after Sarah Gristwood included Elizabeth in her wonderful book Blood Sisters, about the women who helped shape the Wars of the Roses, I held off. Sarah, most generously, encouraged me to go ahead with the project.

Do you have a specific writing style?
No, I just do what I do and hope for the best! I think that each book is an improvement on the last in terms of writing style.

How did you come up with the title?
The title, Elizabeth of York, was the obvious one; I wanted the subtitle, A Tudor Queen and her World, to sum up the essence of the book.

Do you think that historians bring to their work something of their own perceptions and moral codes?
Possibly, but I think it is important to be as objective as possible, and to look at the subject within the context and moral compass of the age in which they lived. I have been accused, for example, of calling Katherine Howard promiscuous, because she took lovers before and after her marriage to Henry VIII; in modern terms that probably doesn't make her so, but people in Tudor England certainly made such a judgement. It is tempting to judge historical figures by our own standards, but it should be resisted.

What books have most influenced your life most?
Possibly The Bible, The Complete Peerage, and Antonia Fraser's Mary, Queen of Scots. Reading that as a teenager, I decided that I wanted to write historical biographies.

If you had to choose, which writer would you consider a mentor?
Sarah Gristwood, who has kindly read over the MSS of my recent books and offered valuable and constructive comments.

What book are you reading now?
Norah Lofts' Is There Anybody There? She is my all-time favouritre author.

Are there any new authors that have grasped your interest?
Yes, several, notably Chris Laoutaris, whose new biography, Shakespeare and the Countess, has fully fired my imagination!

What are your current projects?
I am writing a biography of Margaret Douglas, Countess of Lennox, called The Princess of Scotland, I am completely revising my book The Six Wives of Henry VIII (1991), as I want to update and rewrite it. I am also planning several novels and a series of books on England's medieval queens.

Do you see writing as a career?
Yes, absolutely – and a full-time one.

If you had to do it all over again, would you change anything in your latest book?
No.

Can you share a little of your current work with us?
Here's a tiny taster of The Princess of Scotland, a work in progress:
"While the eyes of the world had been focused on Anne Boleyn's fall, Margaret Douglas, now twenty, had been living in her fool's paradise with Thomas Howard. For a woman of royal blood to indulge in a clandestine romance was to court scandal and disaster – as the world had just so spectacularly witnessed. Margaret was second in line to the throne, and a valuable counter in the intricate game of diplomacy and power politics; her marriage was in the King's gift, to be made to his advantage. It was not for her to choose the man she would wed. All the same, when the court moved to Whitehall Palace on 7 June 1536 for the opening of Parliament, she dared to enter into a betrothal, or precontract, with Thomas Howard 'in the presence of witnesses'."

Is there anything you find particularly challenging in your writing?
Getting started. The first paragraph is crucial. Once I have that, I'm away!

Do you have to travel much concerning your book(s)?
I visit the important sites of historical interest. It's very important to immerse yourself in the environment in which events took place.

Who designed the cover?
Ballantine's design department. They send me the proposed jacket for approval. I suggested changing the background from brown to green; they sent back designs in green and red, and we all thought that the red looked stunning.

What was the hardest part of writing your book?
Frustration at gaps in the sources. Sometimes it is just not possible even to speculate. That is the nature of medieval biography, particularly of women.

Did you learn anything from writing your book and what was it?
When researching a subject in depth, you always learn a lot about them, even if you thought you were conversant with them beforehand. You never know what the sources will reveal or how they enable you to achieve new perspectives. In researching this book I discovered a link in the royal accounts that literally made my jaw drop. It connected Elizabeth of York with Sir James Tyrell, the man who apparently confessed to murdering her brothers, the Princes in the Tower. No one had made the connection before.

Do you have anything specific that you want to say to your readers?
A huge and heartfelt thank you for buying and reading my books, and for all the lovely messages and letters that they send me.


PORTRAITS OF ELIZABETH OF YORK
I came across several that were new to me while I was researching the book. For more details on individual portraits, please contact me.






BAYNARD'S CASTLE: ELIZABETH OF YORK'S VANISHED PALACE




If you were surveying the Thames riverfront in London over four hundred years ago, and were standing on the south bank outside the present-day Tate Modern art gallery, you would have seen on the opposite side of the river a large palace with turrets and a water gate.
This was the building known as Baynard's Castle, originally one of three fortresses built by William the Conqueror to defend London. The original Baynard's Castle was a Norman stronghold that stood slightly inland, but this was demolished around 1276 to enable the Black Friars to extend their monastery. The castle on the waterfront was therefore the second building to go by the same name.
The castle is first mentioned by name in 1338 as a 'tower on the Thames by the place called Chastel Baynard'. After a serious fire in 1428 it was rebuilt on land reclaimed from the river by Humphrey, Duke of Gloucester youngest son of Henry IV and brother of Henry V. On the death of Duke Humphrey in 1447, it came into the ownership of Henry VI who granted it to Richard, Duke of York. In 1452, the Duke of York was disarmed and placed under house arrest there – after which he swore never again to rebel against the King – and in the following year the building was first referred to as Baynard's Castle. In March 1461 York's son, Edward IV, was offered the crown of England in the great hall of Baynard's Castle; and there, in June 1483, Edward's brother, Richard, Duke of Gloucester was acclaimed King Richard III.
In 1485 Baynard's Castle passed into the ownership of Henry VII, who transformed it into an imposing royal residence and granted it to his Queen, Elizabeth of York. The building she knew was a massive white stone edifice with tall towers, rising majestically from the river, with the tower of the church of St Andrew by the Wardrobe rising behind it. Imposing stone stairs ascended from the river to a short balustraded bridge leading to the main entrance on the first floor.
On his accession and marriage in 1509, Elizabeth's son, Henry VIII, gave the castle to his bride, Katherine of Aragon. It continued to be an important royal palace until 1551, when Edward VI gave to it William Herbert, Earl of Pembroke. In 1666 the Great Fire of London destroyed all the building except for one turret that survived for about another sixty years.
The remains of Baynard's Castle stayed below ground until 1972, when the construction of a new dual carriageway and flyover on the north bank of the Thames prompted a major rescue excavation. The work, on the largest open area in the City of London ever to be available for excavation, had to be done in a matter of weeks, which meant calling upon vast numbers of volunteers. A period of frantic activity produced so much post-excavation work that the findings have never been fully published. When the archaeologists had left the site, completion of the construction work then left the area completely covered with new roads and modern buildings, and the foundations of Baynard's Castle disappeared from view once again.
Looking at London's skyline now, it is hard to imagine how in centuries past the turrets of the royal palace of Baynard's Castle, rising vertically from the waters of the Thames, would have completely dominated the north side of the riverfront.



MISCELLANY

Thanks to the reader who pointed out the typo on p.403, where I state that the Princess Katherine was perhaps named after Henry VII's maternal grandmother, Katherine of Valois. It should, of course, read 'paternal grandmother'.

Thanks also to the reader who pointed out the error in the family tree. On the line proceeding from Richard Plantagenet and wife Cecily Neville, Isabella Neville is shown as their daughter. She was, of course, the daughter of Richard Neville, Earl of Warwick( the Kingmaker) and sister of Anne Neville, who is correctly shown. When the publishers converted my hand-written table into graphics, the short line above Isabella's name should have extended down from the the Warwick descent, breaking to cross the other lines.